Roe Green Cricket Club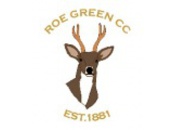 Roe Green Cricket Club
"Venient super viride"
News Report
Results round up 18 July 2018
18/07/18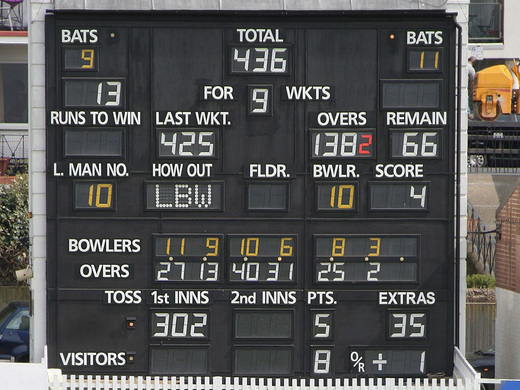 Saturday 14 July – Roe Green CC 1st XI vs Clifton CC 1st XI
Clifton CC 1st XI – 197/8. A Hough 4-33. G Emmett 2-21
Roe Green CC 1st XI – 201/6. J Gatenby-Brown 58*. Dan Cooper 37.
Roe Green 1st XI Win by 4 wickets.
On Saturday the first team hosted local rivals Clifton, hoping to make amends after a crushing defeat in the reverse fixture. Clifton won the toss and chose to bat first on another sunny Saturday afternoon at the green.
Despite the favourable batting conditions, the Roe Green openers did well to restrict Clifton scoring, with the visitors finding themselves at just 34-1 after 15 overs. When the dangerous Gareth Cross was dismissed for a duck by Guy Emmett, the green men looked to be on top. Opener Holt continued to score steadily before being dismissed for a respectable 68 with the score at 111-5 from 35 overs.
In the final stages of the innings, the Clifton middle order battled their way to 197/8, with J Evans finishing with an unbeaten 43. Andy Hough was the pick of the Roe Green bowlers, finishing with figures of 4-33 from his 15 overs. A special mention goes to Guy Emmett who took 2 wickets for just 21 runs in his 15 overs.
Opening batsmen Dan Cooper and Jordan Stephens set out to score the 4 runs per over that was required. Stephens was soon dismissed cheaply and was then quickly followed by Justin Kenyon who failed to trouble the scorers. With Cilfton's confidence peaked at 14-2, Joe Gatenby-Brown was brought to the crease. Providing some well-needed resistance, the Roe Green man (along with Cooper (37), D Jones (21) and L Williams (27) made his way to a dogged 58* from 121 balls, safely guiding the green home with only 5 balls to spare.
The first team now sit at sixth in the league table, with a visit to table-topping Flixton coming up in the next round of fixtures.
Saturday 14 July –Irlam 1st XI vs Roe Green 2nd XI
Irlam CC 1st XI – 39ao. B Johnson 6-21. E Millward 4-18
Roe Green CC 1st XI – 40/2. L Norris 19*.
Roe Green 1st XI Win by 8 wickets.
The second eleven made the short trip to Irlam, hoping to extend their lead at the top of the division 3 west table.The hosts won the toss and surprisingly chose to bat on what was a damp and green wicket.
From early on in the innings, the reliable opening partnership of Brad Johnson and Elliot Millward seemed to be too much to handle for the Irlam batsmen, with the hosts being reduced to 19-3 after only 4 overs. Although some resistance came from the number 4 and 5 batsmen, they would soon meet the same fate, and after just 15.3 overs, Irlam were all out for 39. Johnson finished with figures of 6-21 and Millward with figures of 4-18.
The second innings was navigated with little trouble, with Luke Norris opening the batting and seeing the green home with an unbeaten 19. As only two wickets were lost in the run chase, the bonus point was achieved.
With chasing teams dropping points, the second eleven extended their lead at the top of the table to 13 points. They play Tottington St. Johns first team in their next fixture.
Sunday 15 July – Darcy Lever 3rd XI vs Roe Green 3rd XI
Darcy Lever CC 3rd XI – 70ao. D Banerjee 4-7.
Roe Green CC 3rd XI – 71/0. R Jones 55*
Roe Green CC 3rd XI win by 10 wickets
Following on from their emphatic cup victory against Westhoughton, the third eleven hoped to continue their unbeaten start to the season. On this occasion, they travelled to Darcy Lever, with the hosts winning the toss and batting first.
After a positive start to the innings, it looked as though the Roe Green men would face more of a test than they had done in their previous fixture. At 33-2, the game looked to be in the balance, however, when Dipyaman Banerjee was brought on to bowl, the game soon swung in favour of the green. Banerjee ripped through the Darcy Lever middle order, reducing them to 55-8 and finishing with figures of 4-7 from his 9 overs. The hosts would soon be bowled out for just 70 runs.
Hoping to avoid the loss of 3 wickets, and thus receive a bonus point, the young pairing of Rob Jones and Harrison O'Brien took to the crease to lead the run chase. It would turn out that these two batsmen were all that were needed, as they led us home after just 19 overs. Jones finished with 55* and O'Brien 10*.
Follow the site to get the latest news and results straight to your email
Contact List